"

The Ocean is a swimmy and meditative piece that almost sounds like a misplaced worship hymn replete with ambient vocals and gorgeous string arrangements." - Adeem Bingham
Podcasts, News & More
Steven appeared on the Mostly Folk podcast with Artie Martello to talk about his new album Cold Harbor. 
Maryland based singer-songwriter Steven Gellman discusses the background leading up to his new CD 'Cold Harbor', a collection of songs from deep within.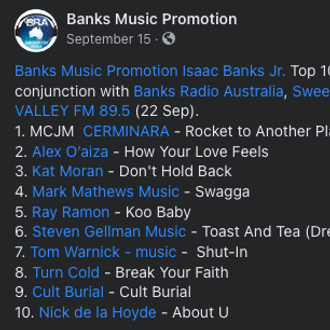 Valley Radio 89.5 - September 15, 2021
Radio Airplay in Australia
Top 10 tracks in conjuction with Banks Radio Australia, Sweet Sunday Sounds and Valley FM 89.5.