"

The Ocean is a swimmy and meditative piece that almost sounds like a misplaced worship hymn replete with ambient vocals and gorgeous string arrangements." - Adeem Bingham
Podcasts, News & More
Steven appeared on the Mostly Folk podcast with Artie Martello to talk about his new album Cold Harbor. 
Maryland based singer-songwriter Steven Gellman discusses the background leading up to his new CD 'Cold Harbor', a collection of songs from deep within.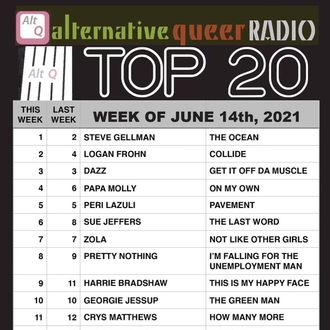 Alt-Q Radio - June 14, 2021
Top 20
On June 14, 2021, The Ocean by Steven Gellman reached #1 on the Alt-Q Top 20. 
This Way Out - May 3, 2021
This Way Out Radio Episode #1727 "NSW Trans Stand & Queer Music Focus!"
As the year goes whizzing by, have you lost your "QUEER MUSIC FOCUS"?  "This Way Out's" STEVE SIMS found it! (featuring new music by STEVEN GELLMAN, IMAGESONG, ZOLA, EMMET MICHAEL, JHONNY NIGHTS, and LOWBELLY). Steven's segment begins at 19:31.